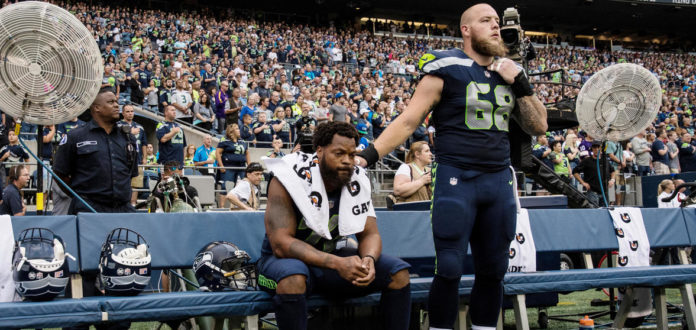 The Seahawks have signed Justin Britt to a three-year contract extension reportedly worth $27 million dollars. He is eligible to receive $13.25 million dollars during the 2018 season. The Seahawks say they are thrilled to the terms of the contract, and to have Britt return as a leader to the team.
Britt's Gameplay
Britt has been a bright spot for the Seahawks. He has played in 47 of 48 games after joining the team as a second-round draft pick in 2014. It took him the Seahawks a little bit to find him the right position after he joined the team as he has played tackle, guard and center.
Coach Carroll on Signing Britt
Last year, the Seahawks had the sixth most sacks in the NFL. They also finished 24th in yards per rush attempt. In comments to the press, Head coach Peter Carroll called Britt a real leader.It took Carrol and upper Seahawk management 16 tries to sign a Seahawk lineman they drafted to a second contract. In addition, the team signed Kam Chancellor to a new contract recently.
Britt's Leadership
Coach Carroll says that Britt was as much a leader off the field as he was on. He worked to keep enthusiasm up in the locker room during last season. During the off-season, he called the other lineman to get them together to workout. He also was one of the first people to call new players to welcome them to the team.
The Seahawks Offensive Line
Joining Brett on the offensive line will be George Fant and Luke Joeckel on the left side. Carroll and offensive coach Tom Cable hope to make a final decision on the right side during the team's game against the Minnesota Vikings.
Seahawks Thrilled with Britt's Terms
Upper management are thrilled with the term of the three-year extension. They say they respect Britt for not holding out for more money. They also point out that this extension allows Britt to renegotiate his contract with the Seahawks or elsewhere when he is only 30 years old when the extension expires.
Jimmy Graham
The next offensive contract that the Seahawks will need to worry about is Jimmy Graham as his contract expires at the end of the year. The Seahawks are hopeful that they can resign this player as well. The team believes that their comeback depends on developing continuity on the offensive line.
Draft Your Fantasy Team Now
DRAFT is the best place to play NFL, NBA, MLB, and NHL daily fantasy drafts. Draft now and receive immediate cash payouts. More players win on DRAFT:
Double Your First Deposit Up To $600