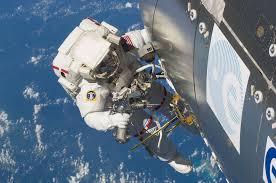 Astronaut Peggy Whitson landed in Kazakhstan on Saturday at 9:21 p.m. EDT. Two other astronauts, a Russian and a fellow American accompanied her on the journey back to Earth in a "Soyuz" capsule.
Whitson had spent a staggering 288 days or nine months in space performing missions on board the International Space Station (ISS). That brings Whitson's total number of days in space to an incredible 665 days, longer than any other American astronaut and longer than any woman in the world. She had broken the record for American astronauts' days in space four months ago during her 534th day.
Whitson has broken other records; at 57, she is the oldest female astronaut in the world. With ten space walks under her belt, she is also the most experienced female space walker in the world. She is also the first woman to have been in command of the space station twice. In 2008, she became the first woman to have ever commanded the space station.
Only seven men have spent more time in space than Whitson, one of them was her fellow traveler Commander Fyodor Yurchikhin of Russia, who has spent a grand total of 673 days in space. Jack Fisher, the third astronaut in the capsule, has spent 136 days in space.
Whitson, who hails from Iowa, had begun working for NASA back in 1989. She began training as an astronaut seven years later and first went to the ISS in 2002. She has completed three long-duration missions, each lasting at least six months. She was originally supposed to have returned home in June, but when an extra seat opened up, she immediately signed up to stay in orbit for another three months.
Whitson is also a biochemist, and she and Fischer worked on hundreds of experiments in biology, biochemistry, Earth science and physical science. They conducted research on how a zero-gravity environment affects an astronaut's eyes. They also studied antibodies to seek ways to improve the effectiveness of chemotherapy medications.
Whitson will return home to Houston by Sunday night. While her home was spared the ravages of Hurricane Harvey, some of her co-workers were less fortunate. They have consequently been sleeping on cots at Mission Control. She told NASA Television that their courage stiffened her own resolve to return home. Nonetheless, she will miss working in space and has said that the first few days will be especially difficult because her body will have to adjust Earth's gravity after nine months of weightlessness.