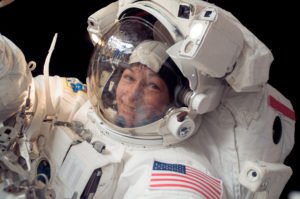 Astronaut Peggy Whitson returned safely to earth this past weekend, marking an end to a record breaking mission. Whitman set a new record for time spent up in space. On this particular mission, she spent 288 days aboard the International Space Station. This boosted her total to 665 days consecutively spent in space.
Whitman arrived on the space station in November 2016 for Expedition 50/51. Fellow American Jack Fischer and Russian Fyodor Yurchikhin came in April for Expedition 51/52 in a Soyuz capsule with an empty seat. After receiving permission from Roscosmos, the Russian space agency, Whitson extended her mission into Expedition 51/52. The capsule undocked from the Poisk module of the station at just before 6 pm EDT on September 3 and arrived 3 hours and 24 minutes later. It entered the Earth's atmosphere at a speed of 500 miles per hour.
The Soyuz's exterior was exposed to temperatures of 2500 degrees F upon re-entry but its heat shields kept the crew inside protected from the extreme temperatures. Parachutes were deployed in a series about 15 minutes before landing. six soft-landing agents did a burn just prior to landing to act as a cushion. The three person crew landed in a remote part of Dzhezkazgan, Kazakhstan. Their Soyuz tipped over on its side on landing which is common for it.
Teams watched the landing from helicopters for the purpose of recovering the crew. After landing, they went to help the astronauts out of the Soyuz. Once they are cleared out of the medical tent, all three crew members will be transported to Karaganda Airport in the country for a welcome ceremony per tradition before boarding flights home. Yurchikhin will return to the cosmonaut center in Moscow. Fischer and Whitson will fly back to the NASA Command Center in Houston, TX. NASA had to develop an alternative plan to bring both astronauts to the center after Hurricane Harvey hit the city with massive flooding.
The original plan was to have the NASA gulf stream jet leave Houston to meet their crew members at Karaganda Airport but it was unable to leave in time. The European Space Agency will send a plane to pick up both Fischer and Whitson and bring them to Cologne, Germany instead since it has sent planes there before. The NASA plane will meet them there and bring them to Houston. Their return will still remain virtually on time. Whitson has said her home wasn't damaged in the recent storm but many of her colleagues were impacted. A 3 man skeleton crew stayed at Mission Control to keep it running. She admires their sacrifice and is grateful for it.
Peggy Whitson is now 8th on the list of astronauts who have spent the most time in space.