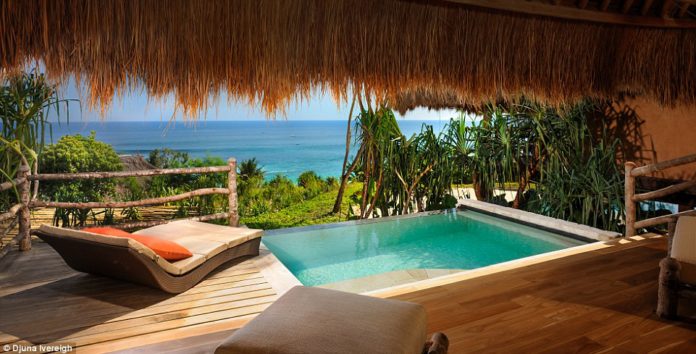 What happens when you combine billionaire fashion mogul Chris Burch, an old Indonesian hotel, and 30 million dollars? You get Nihi Sumba Island, an amazing resort in Indonesia. This beautiful luxury resort is complete with 27 villas, each with a private plunge pool, quick access to the ocean where surfing and relaxation can take place and most importantly, a view of the glorious sunset each night. Just to name a few of its features.
Nihi Sumba Island was voted as the best hotel in the world by Travel + Leisure magazine in 2016. When they review 100 hotels to figure out which one is the best, you've got to believe that they choose the right one. Nihi is, across the board, one of the best hotels in terms of beauty, luxury, efficiency and even responsibility. Nihi is the largest employer of the locals on the island of Sumba and a portion of the resort's profits are directly reinvested into the community, meaning not only is a vacation at Nihi enjoyable, it also contributes to the good of the locals. This can be a rare thing to find in the hotel industry, as many hotel chains predicate their fortune off the backs of those who are indigenous, but the social consciousness of Chris Burch has allowed for the people to benefit significantly not only from his hard work but also his vast knowledge.
So, what is it that made billionaire Chris Burch want to get involved in the hotel industry? One might be surprised with that direction considering that his background is in the fashion world, but according to Burch, he was persuaded by his hotelier friend to visit it a second time and upon that visit, he fell in love. He bought the hotel from a couple from New Jersey and set about working to revamp the land so that it would be an amazing hotel and spa experience. In 2012, he bought Nihiwatu and in less than four years, was able to take it from being a cult surfer's retreat to a place voted the best hotel in the world, renaming it Nihi Sumba Island. That is no small accomplishment! Nihi is a gift from him to his children and to the local community, as his focus on creating a socially conscious business model would do well for everyone around him.
With the motto, 'On the Edge of Wildness', Nihi rests on the west coast of Sumba, where the waves routinely crash against the ground. For those who are interested, surfing lessons are available, as well as fantastic swells that would make any surfer swoon. In fact, Nihi is somewhat of a hotspot for surfers around the world because of its coveted private wave, Occy's Left. Anyone can rent out private lessons as well, so even if a visitor doesn't know how to surf, they can learn a lot from the trainers on the island. The surf is in such high demand that only 10 surfers are allowed on the wave at one time, but for those who would prefer calmer waves and an easier time, there are places elsewhere you can go where the surf is a little less rough.
Among the villas that are available for rent at Nihi, Chris Burch's own private home is on the island and is available for guests to be able to rent as well. This is a full-sized home with four additional villas and can run upwards to the cost of $14,000 during peak months. Yet, even though this could be a high price point to many, Nihi is one of the most gorgeous resorts on the planet, making the price worth it.
Excursions are also a big part of Nihi. There are many things to do on the island and the islanders are eager to meet with travelers. From horseback riding to swimming in a lagoon, the island of Sumba has a lot to offer those who are interested in doing more than just lazing around by the ocean all day. There are even private yoga sessions available for those who would enjoy doing yoga to the sunrise. Transport is provided for those who would like to go deeper inland to enjoy Sumba and its people.
And what about the creator of this paradise? Chris Burch couldn't be more pleased with what he's built. As the founder and CEO of Burch Creative Capital, he has put a lot of his money into many different ventures. Before becoming a fashion, real estate, and hotel magnate, he had very humble beginnings in Ithaca College where he started his first business selling sweaters door to door. Chris Burch's hard work and determination in that venture led him to expand his sweater company, leading him to get a factory to assist with creating more products for him.
Eventually, Chris Burch would expand this little company, called Eagle's Eye into retail and would go on to sell it in 1989 for millions. This capital propelled him forward, where he was able to establish Burch Creative Capital, an incubator that was meant to help him seek new investments as well as assist him in the creation of new ideas.
While Chris Burch has spent a great amount of time working to enrich himself, he also has a very strong conscience when it comes to charity, making sure to always give back. His alma mater school, the Tilton School, once received a very large donation from him as a way of saying thank you for believing in him. As an investor, his major principle of investment is to look for the right kind of people to put money into. He believes that if you find the right kind of person, then your money can't go to waste on them.
With his latest creation of Nihi, it is now easy to see that Chris Burch has an eye for fashion, flair and good taste. It's rare to see someone walk in and turn an ordinary hotel into one of the greatest hotels in all the world in just a few short years, but for someone like Chris Burch, that seems to be one of his talents.