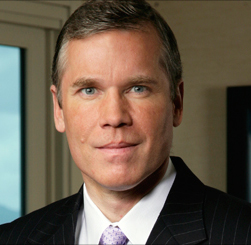 **UPDATE
Glen Wakeman has recently released an educational video that informs new business CEO's on how to grow their businesses. For the full story visit https://www.crunchbase.com/person/glen-wakeman
Glen Wakeman is currently the CEO of LaunchPad Holdings, LLC, a company that he co-founded in 2015. Before he made it to that point, he had a very successful career in the business world, and that experience led him to be the perfect person to mentor others who wish to follow in his footsteps.
Glen prepared for his illustrious career at the University of Scranton where he graduated with a Bachelor of Science degree in Economics and Finance in 1981. He earned his Master of Business Administration from the University of Chicago in 1993.
He spent more than 20 years with GE Capital where he gained experience in ever-increasing leadership roles in several areas, such as operations management, business development, and general management. He had an opportunity to take positions all over the world with his last post being CEO of GE Money Latin America. While there, he was able to a start nine-country operation from the ground up that earned more than $2 billion in revenue and employed 17,000 people.
In this capacity, Glen Wakeman was responsible for creating a multitude of products. He also nurtured a network that encompassed 1,000 branches and was involved with many partnerships. While he was working for GE, he took several different positions, and some of these were Director of Business Development, Chief Operations Officer, and General Director. In the time that he spent working for GE, Glen lived in six different countries and oversaw operations for GE branches in more than 30 countries.
At the end of his career with GE, the management recognized him for his excellence by naming him a "Growth Leadership" role model.
Before Glen Wakeman joined DFC, it was a non-compliant, inefficient, monoline bank. After Glen Wakeman was finished with it, DFC was a streamlined community bank that included U.S. operations at its headquarters in Puerto Rico that was worth $2.7 billion (http://inspirery.com/glen-wakeman/). Because he was such a dynamic leader, the management gave him several awards in appreciation. He was also recognized for his devotion to corporate social responsibility.
In 2015, Glen Wakeman founded a company called "Nova Four" and became its President. This enterprise helps start-up companies obtain the funding they need to begin and continue their operations. The company also gives these fledgling businesses advice.
LaunchPad Holdings, also founded in 2015, is another of Glen Wakeman's companies that gave him the opportunity to guide entrepreneurs as they start their own businesses. He does this by helping these companies become more agile in a corporate sense as well as individually, and he has developed a proven methodology for this purpose that helps his protégées improve company performances.
The methodology that Glen envisioned examines the following five main elements a company's practices:
Leadership – This allows the company to be prepared to make changes.
Human Capital – This has the purpose of aligning tactics, strategy and vision.
Execution – This level integrates people, technology, and processes.
Risk Management – This level minimizes disruptions.
Governance – This level gives people permission to disagree constructively.
At LaunchPad Holdings, Glen Wakeman has developed a software service that enables entrepreneurs to work their ideas into manageable plans that can be implemented in the real world. The service is called "LaunchPad Toolkit," and it is accompanied by an extensive library of advice for entrepreneurs who are launching their own companies. These entrepreneurs obtain capital when they need it, but they also advise on how to spend the funds they receive.
Glen Wakeman was asked how he came up with the idea to start LaunchPad Holdings, and he explained that he enjoys pairing new ideas with the money needed to make them happen (GlenWakeman.com). He has also been talking to a lot of people, and he was hearing many great ideas from them. He started to wonder why new businesses had such a high failure rate, and he set out to find the answer.
The answer is that owners of the new business do not have an adequate plan behind their ideas. He insists that an idea is not a plan. What people need is structure, and his software simplifies the process and makes it easy for people to develop the structure.
Blogging
Glen Wakeman is a regular blogger, and he writes about several subjects, including administration, management, emerging markets and international fiscal matters. He has written posts about leadership, global affairs, and business transformation and offers his advice on the best ways to raise capital and angel financing. He takes his role as a mentor very seriously and counsels many executives in C-level management positions.
One interviewer asked Glen Wakeman to demonstrate his prowess in offering entrepreneurial advice by asking him if there is anything that he does repeatedly that he recommends other entrepreneurs do. He stated that he questions his value proposition in business matters as well as in personal matters. In doing this, he asks himself several questions, including the following:
Is the plan easily understood by others?
Is it unique?
Is it a worthwhile option for my client base?
Does it offer my customers value for their money?
According to Glen, for a product to be truly great, it has to have a substantial value proposition. If it doesn't, the business will not work.
If Glen Wakeman were to be asked to suggest a book for entrepreneurs and anyone else to read, it would be "The Art of War" by Sun Tzu. It's a highly valuable book because it is the best book on strategy that has ever been written. The reader learns lessons about teamwork, discipline, and preparation. Most importantly, it is a veritable "page turner" according to Glen.