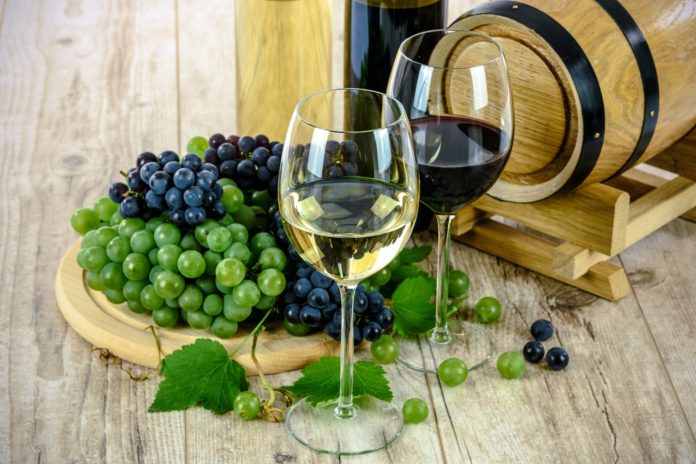 The upcoming change in seasons is the perfect excuse to think about all of the exciting meal options for fall. There is no reason to be sad about summer coming to an end thanks to the amazing fall food and wine pairings suggested by Traveling Vineyard.
It would not be fall without being ambushed by all things pumpkin. From lattes to pies, the pumpkin flavor is one of our strongest associations with the fall season. No matter how you like to enjoy your pumpkin treats, there are delicious options from Traveling Vineyard to perfectly complement the rich and unforgettable pumpkin taste. Even if you enjoy a sweeter pumpkin dessert, the 2016 Beeline Muscat Canelli from Traveling Vineyard is the perfect match. While this wine is one the sweeter side, there is not so much sugar that it will overpower the flavor of your dessert. It makes the pumpkin pie you are craving all the sweeter and the flavor linger a little longer. While many white wines are most often thought of as summer options, this particular semi-sweet wine has the ideal amount of bold flavor to work for fall.
Another option for more savory foods is the 2016 Pebble Viognier, California from Traveling Vineyard. You will notice the strong aroma and taste of more spices in this wine, which help to make heartier fall foods all the richer. If you were searching for one wine option that would pair well with both your main dish and your fall dessert, this one will certainly do the trick. It will not clash with sweeter flavors and serves as a delightful balance to more sugary treats. Although it is primarily recommended to be served with the main dish, such as pumpkin ravioli, this scrumptious wine is so delicious that it will often carry through to dessert.
Let's talk fall wine, shall we? Tune in for a quick sip of #winewisdom with Missa and Kate. https://t.co/LPNVxr4NiI ??? #winewisdom

— Traveling Vineyard (@TravelinVinyard) September 18, 2017
If you are craving some meatier and heartier foods this fall, the 2015 Calamity Sue Riesling, Lake County, California from Traveling Vineyard is the white wine option that you are sure to love. This is a great addition to a chili meal and handles the weightier feel of a beef-based meal very well. It has been described by wine aficionados as a nice balance to spicier flavors because it has just a bit of sugar to even everything out. If you are serving any red fruits at your meal, this white wine option will highlight them expertly.
Finally, if you are looking for a way to cozy up and settle in on a colder fall evening, try the 2016 State Room Cabernet Sauvignon/Merlot, Western Cape, South Africa. This is a bolder and heavier red wine option that is sure to soothe and comfort on even the chilliest of fall evenings. It is also a great wine to use as a transition to winter weather. An extra bottle of this cabernet is a great thing to keep on hand in your home because it is sure to go quickly. This is a favorite choice as an evening beverage and is enjoyable all on its own. Imagine a roaring fire and some low music to complete the fall ambiance.
More Information on Traveling Vineyard
Traveling Vineyard is the newest sensation in the direct selling community. It provides a unique and lucrative opportunity for women who already love wine and spending time with their friends to turn their interest into a side gig. Wine guides for Traveling Vineyard are independent consultants for the company and represent the products directly to their network of friends and families. By hosting wine tasting parties at your friends' homes, you can share your favorite Traveling Vineyard wines and learn more about wine making and tastings in the process. Wine guides earn a generous commission based on the amount of product they sell for Traveling Vineyard and are able to take advantage of major discounts on the products for themselves.
Looking for a home-based business, Mom? Allow us to make the case for wine. #changeyourworld #wineboss https://t.co/M7HaJIZuAL

— Traveling Vineyard (@TravelinVinyard) September 18, 2017
Unlike companies that sell clothing, candles or purses, Traveling Vineyard offers a consumable good to customers, which means that they will be eager to come back and purchase more from consultants. This makes for a business model that can be sustained beyond an initial sale and has developed a strong customer base. Wine guides for Traveling Vineyard also benefit from the fact that the market is not saturated with direct wine sales companies. The personalized service and fun environment that customers of Traveling Vineyard get to enjoy while shopping for wine makes the process easy and stress-free.
It might seem like you would have to have an extensive knowledge of wines to be successful working for Traveling Vineyard. Thanks to their detailed and helpful starter supplies available to each new wine guide, Traveling Vineyard teaches you everything you need to know about wine tastings. Many wine guides for Traveling Vineyard love that they gain new skills and fun information while getting paid to represent a great company. The more comfortable you become as a wine guide, the easier it will be for you to recruit friends and customers to your team of Traveling Vineyard wine guides. This will allow you to earn extra commission and increase your paychecks from Traveling Vineyard. Their personal reward system is also recognized as being one of the best in the direct selling community because it allows you to select from valuable personal prizes, such as designer handbags and jewelry, without cutting into your actual paycheck from Traveling Vineyard.
Read more about Traveling Vineyard here.
The low cost to purchase a starter kit from Traveling Vineyard and the deeply discounted wine you will enjoy for yourself are reasons enough to give this promising opportunity a try. Once you do, you will be surrounded by a large network of empowering and supporting women willing to boost you up and help you out along the way to earning your financial independence. There are so many resources available to Traveling Vineyard wine guides to help them navigate the early stages of launching their business. In addition to the extra income that they earn, many wine guides for Traveling Vineyard say that their real success in working for this company is building a business that they can call their own. It is extremely empowering and life-changing to know that the extra income from Traveling Vineyard is a way to support a family or save extra money on the side for a major life event, such as a dream vacation or buying a car. The possibilities are whatever you want them to be with Traveling Vineyard.
Read More About Traveling Vineyard
Be Your Own Boss with Traveling Vineyard
Follow Traveling Vineyard on Social Media
Facebook
Twitter
Instagram
YouTube
LinkedIn