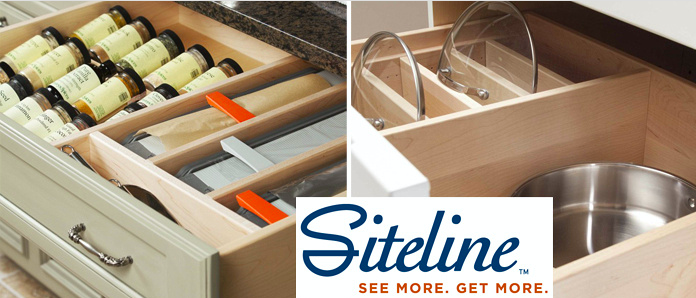 The kitchen has often been referred to as the heart of the home. In many cases, this proves to be true. The kitchen is where family meals are prepared, holiday gatherings are celebrated, and heartfelt conversations with loved ones take place. Having a kitchen that is both beautiful and functional is very important to many families. Of course, a successful kitchen is made up of many different components all designed to work in harmony to increase productivity and maximize space. At Siteline Cabinetry, they understand how important it is to have a kitchen that supports the needs of your family and allows you to perform your daily tasks in the most efficient manner. For this reason, they specialize in creating pre-engineered kitchen cabinets that prove to be both beautiful and highly functional, supporting the needs of your kitchen and all the duties you perform there.
Siteline Cabinetry
Created in 2015, Siteline Cabinetry is a company dedicated to bringing you a full range of pre-designed kitchen cabinets and accessories to accompany them. By specializing in pre-configured designs, these cabinets can be completed in a much faster time-frame. In fact, Siteline Cabinetry currently has only a four to five week lead time, allowing you to be enjoying fully functional new kitchen cabinets in no time.
Relying on the most modern production equipment available today, Siteline Cabinetry is able to produce beautiful and functional cabinets in a fast, friendly, and affordable manner. This appeals to customers of all backgrounds and offers appropriate solutions for all types of kitchens. With made to order choices, you can receive the type of cabinets you are looking for at prices you can afford.
Why are Cabinets an Important Component of a Functional Kitchen?
Cabinets provide a finished look to a kitchen while affording the homeowner with vital storage space for all the items they need. Most people have more items in their kitchen and dining room areas than any other area of the home. Between kitchen appliances, occasionally used cooking utensils, holiday and special occasion items, decorations, fine china, and more, it is easy to see why functional storage space is so vital in this busy area of the home. You don't just want large areas to stick away seldom used items. You want fully functional cabinets that store these items in a safe manner, keeping them free of damage or dust until they are needed again. You also want them to be easily accessible when that time comes, even if you don't plan to use these items for several more months. Siteline Cabinetry can provide cabinets and accessories that fill these needs and so much more.
How Does Siteline Cabinetry Work?
Through the process of a few easy steps, they can help you enjoy a more attractive and functional home. First of all, they will help you assess your exact needs and formulate a budget that works for you and your family. They can then visualize the type of final look you are wanting to achieve. Depending on your personal taste preferences, goals for the room in question, and budget, they can help you choose a range of products and accessories that will meet your needs in the best manner. Next, they can assist you with planning for the installation of the new cabinets that your family will enjoy for many years to come.
Modern Designs at Competitive Prices
At Siteline Cabinetry, they understand that taking on the remodeling of a kitchen or other central area of the home is a major inconvenience. They want to make this process as easy and fast as possible so that you don't have to be inconvenienced any more than is necessary. They create custom cabinetry based on your specifications. Therefore, they don't begin building your order until they receive the specific design instructions to let them know what your exact needs and desires are.
What Makes Siteline Cabinetry Unique?
As stated above, they specialize in custom-built and designed cabinets that are targeted to your specific needs and style guidelines. They do not begin building your order until they get these special instructions detailing your specific needs and desires.
Following the receipt of your specific design instructions, all of our cabinetry items are custom designed in our Virginia manufacturing plant. This is not a mere standard processing plant. They utilize a state-of-the-art manufacturing facility equipped with the most cutting-edge technology and machines available today. They also employ only the most skilled craftspeople who help design and build all of our custom made items. Since they begin with such a wide array of pre-configured items and choices, they are able to complete these custom orders in a much shorter time frame than the typical manufacturing facility can.
In addition to the building of the cabinets themselves, they offer a wide array of finishes and accessories to complete the look and enhance the overall appeal of your home. They understand that tying everything together and making the look come alive is important. A lot of the final touches lie in the small details, such as the particular finish chosen, the choice of handles and knobs, and so on. They know you pay a great deal of attention to these smaller details, so they do also. They provide all the accessories you could possibly need to complete the look and get you on your way to designing the kitchen of your dreams down the last tiny detail.
The kitchen is about so much more than preparing food or eating a quick meal. The kitchen is considered the heart of the home for many reasons. Most of us spend more time in our kitchen than they do in any other area of the home. This is where they celebrate significant events in our lives, gather with loved ones, and have loving conversations with family and friends. A beautiful and functional kitchen is an important part of making your house a home. With beautiful, functional, and affordable kitchen cabinets from Siteline Cabinetry, you can easily create the kitchen of your dreams that fills all your needs.
Interested in jump starting your home renovation? Speak with an authorized Siteline Cabinetry dealer to get started.