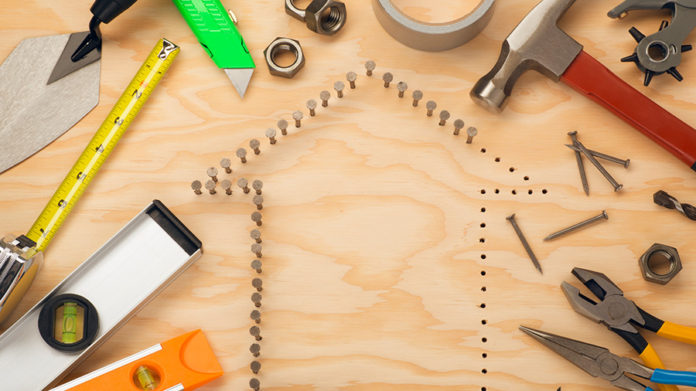 2017 is coming to a close. The holidays are right around the corner, and soon it will be time to celebrate the new year. With Aloha Construction, every new year comes the New Year's resolutions. These often include large home improvement projects that require time and investment. However, they also are a great way to update your home and start 2018 off on the right foot. If you're ready to make some changes in your own home, consider these five home improvement projects to tackle in 2018 with Aloha Construction.
1.Finish Your Basement
Here in the Midwest, basements are common in many homes. A lot of families move into their house planning on getting around to finishing the basement… eventually. It's cold, it's ugly, and it's packed full of boxes and storage. However, it also contains valuable wasted space! Finishing your basement with Aloha Construction and their partner company Aloha Restoration Co. can not only increase your home's resale value, but it also creates a new living space, perfect for expanding your family or hobbies in 2018.
Before you finish your basement, call Aloha Restoration Co. to get an initial quote. Think about what you want… a TV room? A bedroom? A full bar and bathroom? All of these different options also affect the price. If your basement has a separate entrance, you can even consider turning it into a complete apartment to rent out.
The best part of finishing a basement is that the area was largely unused anyway, so unlike a bathroom or a kitchen, the construction and renovations have little impact on your day to day life. Once the project is done, your house will feel completely new and different, perfect for the new year!
2. Give Your Home A New Look
That means upgrading your exterior in 2018. Just like people need haircuts and new wardrobes, your house can also do with an exterior change for a clean start in the new year.
If you have a brick home, then you can repaint or replace all of your shutters and doors to update its facade. If your house was built with siding, have it inspected by Aloha Construction, repaired, replaced if necessary, and repainted for a fresh new look. You may be surprised how small changes can make such a big difference to the look and feel of your house!
3. Add an Outdoor Living Space
Just like finishing a basement, adding an outdoor living space is a great way to add value and a new living area to your home. Outdoor living spaces include patios, decks, gazebos, and more. They can be as simple or complex as you choose.
For a low budget project with Aloha Construction, building a small patio with a table and chairs is a good place to start. If you're more invested in the project, consider attaching a deck to your home as well, with a new grill, table, and porch swing. If you own a lot of land, the options are truly endless. Gazebos, manmade lakes, garden paths, outdoor bars, or even a fireplace can be investments that your family will use daily and create lasting memories in.
4. Replace Your Roof
Roofs aren't just about functionality, they also have an aesthetic purpose as well. If it is time to replace your roof with Aloha Construction in 2018, consider investing and upgrading to a new style. Asphalt shingles are common in Illinois and throughout the US, but there are plenty of different options for roofing on the market today.
If you're truly ready to ring in the new year with new changes, cedar shake may be the perfect option for you. The timeless wood gives a cozy and classic look to any home it's installed on. It's also durable as well. If cedar shake isn't for you, then scalloped shingles or even a variety of different materials like aluminum or copper may be the perfect way to give your house an upgrade in 2018.
5. Purchase a Rental Property
Although this is not a traditional upgrade to your home, it can be an upgrade to your lifestyle. Owning a rental property is a common way to earn money and build value. If you are ready for a new project in 2018, purchasing, renovating, and renting out a new property may be just what you are looking for.
Purchasing a rental property takes a lot of careful thought. While starting the house hunt, make sure you take into consideration the area it is located in, the neighborhood, and what kind of tenants you want. Are you looking for a large family home with long-term renters, or a block of apartments near a college campus? Each option has different pros and cons. Once you purchase the property, make sure you call Aloha Construction for a free inspection and take care of any repairs or replacements it may need before you're ready to rent it out.
2017 is almost over. Maybe you have made big changes to your house during the past year, or maybe you have an ever growing to do list that never seems to get done. Either way, 2018 is a great time to tackle that big project you've been dreaming about.
Create new living spaces in your house by finishing your basement, or create a new place to make memories in your yard with an updated outdoor living space and a patio, deck, or gazebo. You can also consider updating your exterior. Paint and replace your shutters, doors, and siding, and upgrade or change your roofing materials to something new. Finally, take on 2018 by purchasing a new rental property to repair and put on the market. Whatever you choose to do, the options are endless with Aloha Construction. If you are ready to start one of these five projects in 2018, give them a call today!