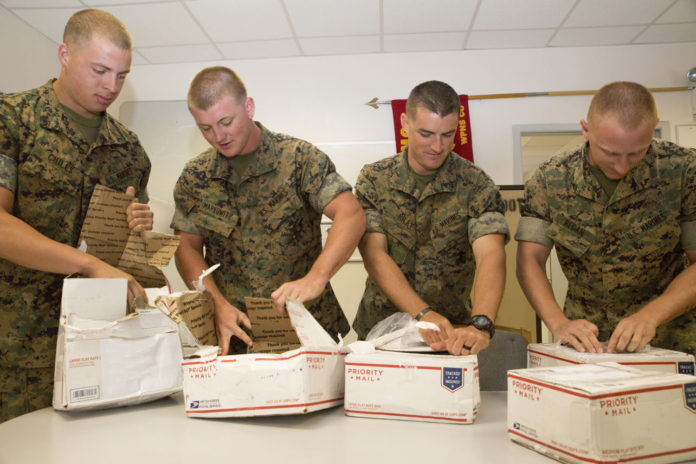 During the holiday season, many Americans find ways to help each other. Some people participate in food drives, volunteer at homeless shelters, or donate money to charity. Others simply make an effort to perform random acts of kindness. Businesses can also do their part to benefit local communities.
USHealth Advisors provided an inspiring example this past Thanksgiving. Both companies and individuals can learn from this insurance agency's efforts to help overseas military personnel. The Fort Myers sales division assembled numerous Christmas care packages for soldiers living on foreign bases.
How it Began
USHealth Advisors' President had an idea on how the company could give back to the community. That person, Troy McQuagge, started the Month of HOPE to that end. The acronym meaning to "helping other people everyday."
Regional sales leader James Sackos commented on the effort to prepare packages of gifts for members of the armed forces. He said that his division spent around $5,000 on these parcels. They benefited about 100 individuals who weren't able to enjoy the holiday at home.
Preparing Packages
Sackos' team launched the project by generously donating gifts and money. Eight sales associates worked to put together care packages on Thanksgiving. They needed to finish this task early to plan for lengthy shipping times. The sales team mailed these items from Fort Myers, Fla.

Each box contained a wide range of goods for military personnel to use and share, according to Sackos. He also reported that local children took part in the project. They created many pictures and letters for the soldiers to enjoy.
Great Benefits
The packages featured numerous practical everyday supplies. Among other things, they included various toiletries, beverages and food. Soldiers also benefited from a few longer-lasting products. These items ranged from books to sunglasses and heavy socks. They helped military personnel experience a happier holiday and feel the public's appreciation.
The USHA team found that this project also improved their holiday season. It boosted morale and helped bring sales associates together. Team members often smiled as they prepared the packages. This highly fulfilling project promoted gratitude; it reminded them that some people can't always celebrate the holidays at home.
Company Facts
USHealth Group sells coverage via USHealth Advisors. This company has headquarters in northeastern Texas. It also owns National Foundation Life Insurance and Freedom Life Insurance. These subsidiaries underwrite its policies. The products range from accident insurance to medical coverage.
During its long history, USHealth has insured over 15 million clients. It primarily serves entrepreneurs and other self-employed customers in North America. Some people also buy insurance for their families or obtain group coverage for staff members.
The company's agents undergo thorough training and possess relevant licenses. Rather than simply process orders, they provide valuable advice and help clients select the most suitable insurance products. Agents take the time to fully address each person's needs. This approach has enabled USHealth to boost customer satisfaction and achieve significant growth.
In addition to standard medical plans, the firm provides an assortment of extra coverage options. Clients can benefit from vision, disability and dental insurance. USHealth offers plans that cover specific illnesses, and it also supplies life insurance policies.
The agency's customers appreciate its wide variety of basic and supplemental plans. These options accommodate many different health needs, treatment preferences and budgets. Clients can avoid high premiums with low-cost policies that deliver significant discounts and cover certain medical services with no deductibles.
USHealth's specific illness insurance appeals to individuals who worry about a particular disease or injury. Both the insurer and policyholder fund portions of the covered expenses. This ensures that customers can pay economical premiums and seek treatment at many different medical facilities.
The company's staff works to swiftly answer questions, process claims and send insurance payments. Consequently, the Better Business Bureau has awarded it the organization's top score. In 2013, USHealth's call center was ranked among 50 of North America's best customer service facilities.
USHealth Advisors' sales associates frequently engage in charitable activities, especially during late autumn. They initiate projects that benefit people in over 60 American cities. Local sales teams donate blood, winter clothing, meals and toys. They also volunteer to work on home construction projects.
USHA Official website: http://www.ushealthfamily.com/