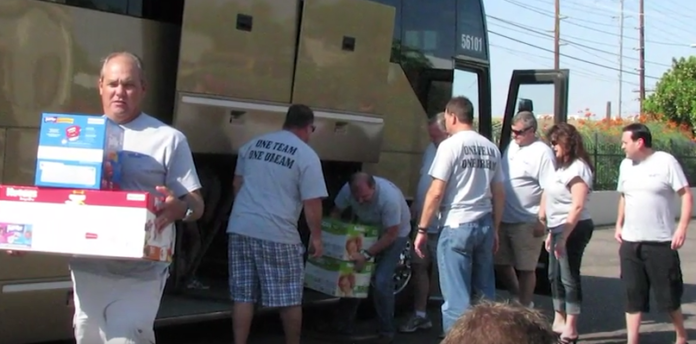 USHealth President and CEO
Troy McQuagge
implemented the Helping Other People Everyday (HOPE) program as one of his first acts in 2010. McQuagge wanted to emphasize the need to provide service to the community.
HOPE is part of USHEALTH Group's overall commitment to serve the community.  Not only in a supportive way, but also to make a positive difference. The program has become part of the infrastructure of USHEALTH Group and McQuagge's leadership vision.
After McQuagge was chosen to lead USHEALTH Group, he wanted to realign the company's message.  Now USHealth Group would be more focused on communities. HOPE was a way to bridge a message of service along with a message of an obligation to people within the communities. Troy McQuagge believes it is a duty to serve.
Creating a Positive Environment for Staff
For the staff, management and independent agents of USHEALTH Advisors, the commitment and message could not be any clearer.
When Hurricane Katrina caused record-breaking damage in New Orleans, USHEALTH Advisors were among several leaders  to assist with recovery efforts. The first project for HOPE was to assist with the rebuilding of homes within New Orleans.
Helping Communities
McQuagge partnered with other leaders to join forces. First, with the Phoenix of New Orleans (PNOLA) to restructure the mid-city areas with new housing. PNOLA is a nonprofit organization that is devoted to community restructuring and development. HOPE participated in a large project with PNOLA, resulting in safer homes for the community. USHEALTH Advisors were among the hundreds of volunteers that helped to rebuild.
The Crisis Nursery is another non-profit agency that provides shelter for children within the Phoenix and Scottsdale, Arizona metropolitan area. The organization provides essential needs for parents as well as parenting support services. Through HOPE, USHEALTH Advisors donated crucial items such as new shoes, clothing and baby formula to the organization.
Helping Children
The next year, while attending a 2012 Leadership Conference in Phoenix, USHEALTH Advisors presented HOPEKids Arizona with a check for $25,000. The organization has been a beacon of light for children suffering from life-threatening illnesses. The donations are vital to the support for the ongoing care for children. When USHEALTH Advisors learned the newest chapter of HOPEKids North Texas was being developed near its headquarters, they donated an additional $45,000.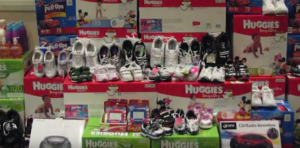 There are many companies that do great things, but McQuagge believes that with HOPE the actions are defining the company's "soul". He says, "Every company has a soul. Our people have made it their mission to help and serve others…For me, there is no other noble way to run a business or live your life."
Those sentiments are echoed throughout the company who continue to serve with honor and passion. For USHEALTH Advisors, HOPE has become more than just an acronym. This has become a way of daily living. Their dedication to the program is consistent among all staff, management and leaders.
These acts of kindness and compassion shown by USHEALTH Advisors have benefited HOPE recipients enormously. The actions have carved a pathway for others to follow. By proxy creating a call-to-action movement within the company.
Elizabeth Byrne is a Division Leader for USHEALTH Advisors within Brevard County, Florida. She led her office to support a local charity in the Palm Bay, Florida community. Her office chose the Homes for Warriors project. As they provide local veterans mortgage-free homes.
The "Byrne Team" volunteered to work alongside Homes for Warriors to assist in the demolition and repairs for a home to give an Army veteran a new opportunity at life. "Our mission of HOPE and projects like this help us to appreciate that living a life of service far exceeds living a life of success," said Ms. Byrne.
Keeping True To The Mission
McQuagge
has provided the entire USHEALTH Group staff
and USHEALTH Advisors an enormous opportunity to not only serve the communities with integrity and honor but also with humility. HOPE has allowed champions that were previously unidentified come forward in ways that are extremely helpful to the communities all across the nation.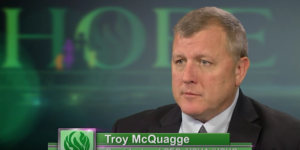 Since becoming President and CEO, McQuagge has not only increased USHEALTH Group's sales and profits for five consecutive years, but he has led in an extraordinary way to bring out the compassion within the company. With the implementation of HOPE, McQuagge has raised the company's standing within the industry. The results of the program are immeasurable.