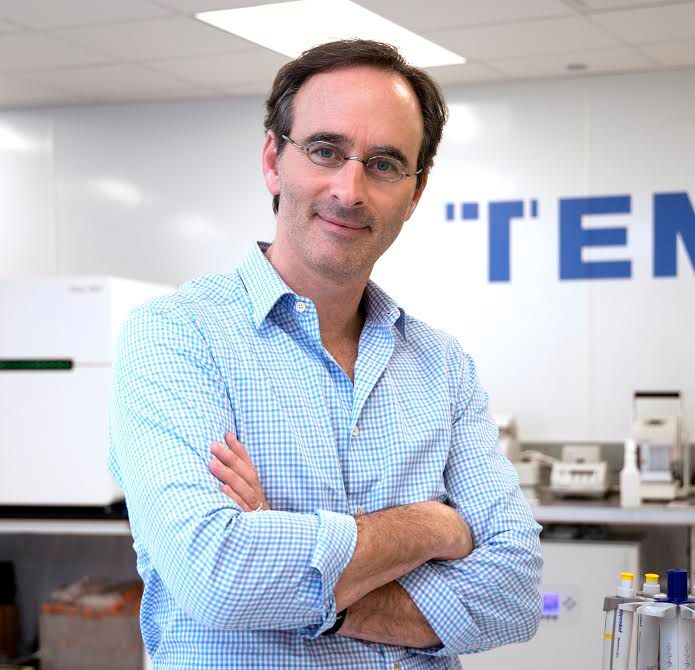 Disease biology is plagued by many unanswered questions that, if addressed effectively, would lead to discoveries and designs of successful therapies. One example of such mystery are those patients who suffer from heart attacks and strokes and yet have few or no conventional risk factors. Those patients are not spared despite having normal levels of cholesterol and blood pressure, no history of smoking or diabetes and no family history of cardiovascular disease. Recent discoveries, however, have managed to address that by finding a kind of molecular marker that helps prognosticate heart attacks or stroke. This marker manifests itself via a bizarre accumulation of mutated stem cells in the bone marrow that increase a person's risk of dying from heart attack or stroke within a decade by 40 or 50 percent. This accumulation – or molecular marker – is called clonal hematopoiesis of indeterminate potential, or CHIP. Chances of having CHIP increase with age – an approximate 20 percent of individuals in their 60s have it and as many as 50 percent of those in their 80s. The growing evidence in favor of CHIP and its role as a molecular marker for cardiovascular diseases is astounding and has taken heart researchers aback. According to Dr. Peter Libby, a cardiologist at Brigham and Women's Hospital and professor of medicine at Harvard Medical school, CHIP is the most important discovery in cardiology since statins.
"I'm turning part of my lab to work on this full time," Dr. Libby said. "It's really exciting.
The discovery of CHIP came about as a result of several research groups investigating cardiac disease. They arrived at the discovery independently while looking at genes of patients who might develop leukemia or schizophrenia. The researchers looked into databases from genetic studies that contained information from tens of thousands of individuals whose DNA had been obtained from their white blood cells. Each research group found that large numbers of participants had blood cells with mutations that were linked to leukemia but did not have the cancer.
"This clearly wasn't happening by chance," said Steven McCarroll, a geneticist at the Broad Institute and Harvard Medical School. "We knew we were onto something, but what were we onto?"
Even though it is still in its beginning stages, the discovery of CHIP is an indication that molecular data can reveal insights beyond conventional risk factors.Several companies have been created around using big data analytics to drive therapy optimization for cancer patients, in particular. One such company is Tempus that was founded by one of Chicago's top entrepreneurs, Eric Lefkofsky. According to Crain's, the aim of the company is to become the world's largest depository of molecular and clinical cancer data that will enable physicians to personalize cancer therapy for their patients.
Tempus came about as it was becoming increasingly clear that, in order to treat cancer effectively, knowing what kind of cancer it is and what the symptoms are is not enough. Recent human genome advancements have led physicians to realize that cancer as a genetic disease, meaning that there is a set of mutations that result in dysfunctional cellular processes that eventually lead to it. Given all this, knowing a cancer patient's genetic make-up, or simply the cancer mutations that they harbor, would be a powerful first step in the direction of a personalized or individualized treatment paradigm. It would help, of course, if that kind of patient data were stored in one place – together with all of the cancer patient's other data.
With Tempus, Lefkofsky offers an interactive and analytical machine learning platform that transforms unstructured data into a cleaned up and organized database replete with every patient's information. The company produces molecular data by analyzing cancer patients' DNA and RNA and as such uncovers more personalized treatment options and generates actionable insights for more impactful outcomes. The company's goal is for each patient to benefit from the treatment of others who came before by providing physicians with tools that learn as Tempus gathers more data. This information is also beneficial for drug companies that pay for access to such data to improve drug development.
Tempus has established collaborations with almost all of the nation's top cancer centers as well as several highly esteemed academic institutions and biotech/biopharma companies.
About Lefkofsky
Lefkofsky is one of Chicago's most influential entrepreneurs. Since its founding in 2015, Tempus has been named one of Chicago's top ten health techs. In addition to Tempus, Lefkofsky is the co-founder of Lightbank, the co-founder and chairman of Groupon, the co-founder of Uptake Technologies, Mediaocean, Echo Global Logistics and InnerWorkings. Lefkofsky also has several philanthropic engagements. He is the Trustee of the Lurie Children's Hospital in Chicago, the Art Institute of Chicago, The Museum of Science and Industry and World Business Chicago. He also serves as the Board of Trustees' Chairman of Chicago's Steppenwolf Theatre Company. Furthermore, he and his wife Liz co-chair the Lefkofsky Family Foundation that supports high-impact initiatives that improve lives in the communities served. Since 2013, he and his wife have also been members of the Giving Pledge, whose members commit to donating half their wealth to philanthropic causes. Lefkofsky currently holds an adjunct professorship at the University of Chicago's Booth School of Business. Lefkofsky obtained his Juris Doctor at the University of Michigan Law School. He is the author of Accelerated Disruption: Understanding the True Speed of Innovation.
For more information on Eric Lefkofsky, please visit lefkofsky.com, LinkedIn: ericlefkofsky, Twitter: @lefkofsky or Facebook: @eplefkofsky. For more information on Tempus, please visit tempus.com, Facebook: @TempusLabs and Twitter: @TempusLabs.